Tuning In and Turning Off
If you're anything like me, you're a 32 year-old married white male with thinning hair and little fashion sense. Also, if you're anything like me, you are a closeted subversive who is always looking for ways to expose and undermine the asinine -- but without having to buy Doc Martens or work at a small, independent record store. Marc Fisher,
writing in the Washington Post today
, really opened my mind to a new method of messing with people's minds while still wearing lace-up oxfords and a button-down shirt.
The man wrote of the device called the
TV-B-Gone
. Here it is: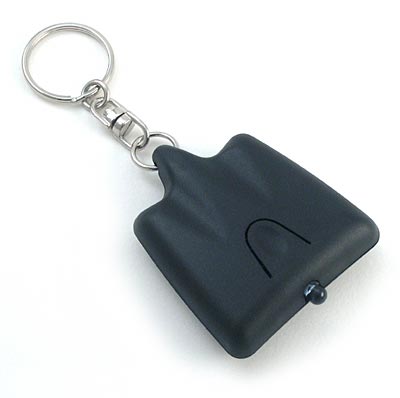 It is essentially a universal remote control stripped of all functionality except the ability to turn TVs -- just about any TVs -- off. The possibilities, which are well-explored by Fisher in his column, are endless. In an electronics store? Induce mayhem by convincing potential TV buyers that the new Sony WEGA simply does not stay on! In a sports bar during the World Series? Induce a riot! At home with the wife? Induce spousal abuse! Home alone and need to turn off the TV? Use it!
I believe I can safely affirm: I would be happier person with this device. The drudgery of my inexorable march to death would cease to dominate every one of my waking thoughts, as I constantly scan every room I enter for infrared receptors. All for $14.99!